Recently I've been binge watching Brooklyn Nine-Nine. I'm now into season 2 and I'm loving it. And I think one of the big reasons I like it so much is that the same producers made Parks and Recreation. Parks and Rec is my all time favorite show. Although some of the jokes can be crude, the chemistry of the cast after season 2 is just so perfect. Every single character can make me laugh, but in a different way. And Brooklyn Nine-Nine does the same thing. So, I thought it would be fun to compare characters in Parks and Recreation and Brooklyn Nine-Nine. Feel free to disagree with my choices and come up with your own, but here's how I see it.
Jake Peralta is the main character in Brooklyn Nine-Nine and he reminds me of Andy with his goofiness and child-like enthusiasm. However, Andy can also be naive and a bit slow, while Peralta is very smart and observant. So I'd say he could also have a bit of Ben Wyatt in him, especially in his love for nerdy things.
Captain Ray Holt is very similar to Ron Swanson in his demeanor and straight face. He also has authority over all of the other characters like Ron does. However, Holt is gay while Ron Swanson is the manliest man around.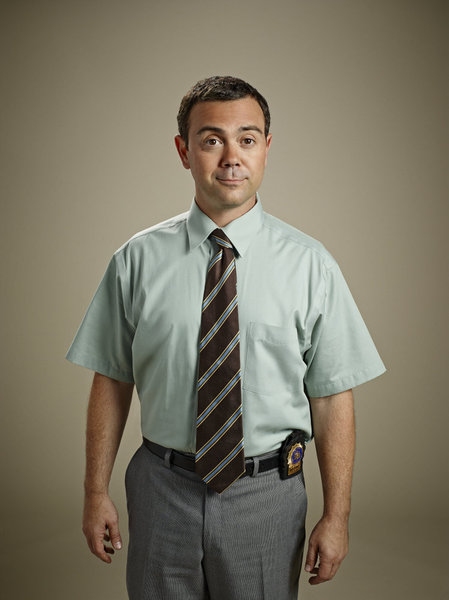 Charles Boyle, Jake's best friend, is a bit of an oddball. In some ways he is like Chris in Parks and Recreation, very enthusiastic and always looking on the bright side. But he is also very awkward sort of how Ben can get when he's flustered.
Sergeant Terry Jeffords is a very unique character. I want to compare him to Leslie Knope because they share the second in command role and he also cares deeply for his coworkers. But he has a soft side along with his buff exterior that reminds me of health-conscious Chris with his emotional breakdowns.
Sorry I don't have pictures for the rest of the characters, but I'm going to do them anyway.
Amy Santiago is a lot like Ann Perkins, wanting to please others but also Leslie Knope in her enthusiasm and detailed organization. So I'd say she's a mix of the two.
Rosa Diaz reminds me a lot of April Ludgate in her don't-care attitude and ability to confront others with the truth. Though more physical in her approach, she has a lot in common with April.
Scully and Hitchcock both remind me of Jerry/Gary/Larry. All of these characters are looked down on by their coworkers, but just go on with life. They also all make stupid mistakes that are easy for other's to make fun of, but have their own quirks that keep us laughing.
And that leaves us with Gina Linetti. I'm not quite sure what to make of her. She's a bit like Donna, with doing her own thing while at work. But while Donna never fails to treat herself, Gina cuts her own hair and is very thrifty. She's also very crazy, like a whole lot of psychiatrists were fascinated by her in one episode. So I might say she's a bit like Mona-Lisa too.
Anyway, those are my thoughts so far. And if you like Parks and Rec and haven't tried out Brooklyn Nine-Nine, I recommend it.
---
2 responses to "
Why I like Brooklyn Nine-Nine

"